Thermovalue Drying
Under the circular economy model, Thermovalue Solutions design and join specific lines for energy recovery through thermal oxidation to produce thermal energy or transform it into electrical energy.
One of the most efficient and profitable automated technological processes for treating a wide range of waste, products and materials, ensuring their maximum energy use is thermal drying.
Our goal is to guarantee the temperature adjustment, with easy maintenance, for maximum optimization of the output material, uniform, without dust or impurities.
ThermoValue Solutions analyzes the characteristics of the material to dry, after this first step designs the drying process in such a way that it does not alter the chemical properties and ensures maximum safety and efficiency.
To carry out this process, Bianna has DDR (drum drying in line) and BDR (belt drying) equipment, the two flagships of this type of line. Simple, robust and reliable equipment, integrated into modular processes that we adjust to the real needs of each industry, material and main goal.
For a complete and energetically self-sustaining process, after a first stage of drying the material in dryers, the material is collected and included in the thermal oxidation stage. After this stage, the gases are redirected to the gas treatment stage to ensure the VOC emissions according to current regulations. Once these gases are treated, they are recovered (as far as possible) to provide the drying equipment with the necessary thermal energy in order to operate in an energy-self-sufficient way.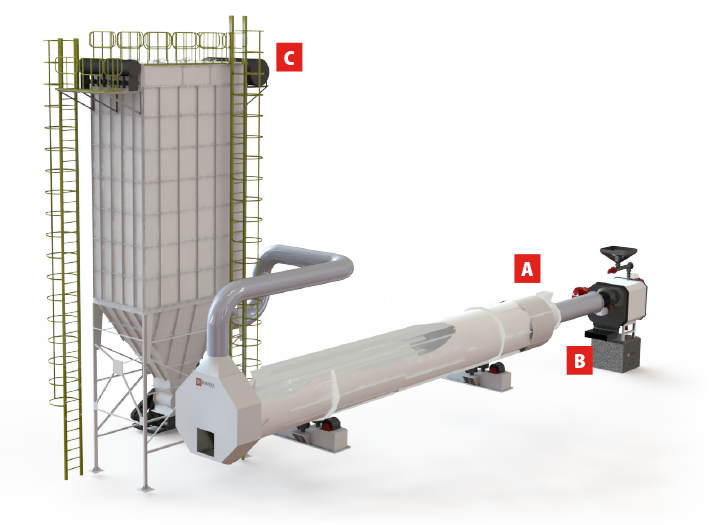 Advantages
Backwards philosophy embodied in this type of process seeks to achieve the following advantages:
Maximize the operational performance of the industrial process while maintaining the quality of the product to be treated.
Minimize energy consumption through the continuous recovery of surpluses generated at the same process.
Ensure the quality of the gas and material outlet to comply with current regulations and those of new implementation.
Maximum integration of the new line within the existing process itself, only with our modular concept we minimize unnecessary product transfer.