Thermovalue Energy
Thermovalue Solutions design, manufacture and install drying and thermal dehydration lines in treatment plants, as well as their integration into any industrial process that requires a drying line.
ThermoValue Solution has carried out the design and implementation of an autonomous, efficient and profitable, controlled solution for the reject fractions of all types of materials such as municipal solid waste (MSW).
Based on the great experience of Bianna accumulated after years of work in waste treatment and recovery processes, we have developed a specific line for the energy recovery of fractions with a high calorific value present at the entrance. In the same way, it is about minimizing all the material that will have its disposal as a landfill.
A solution created to give a specific response to the design and construction of energy recovery plants through thermal oxidation.
The objective is to maximize the line's own performance, including a drying stage (DDR rotary or BDR band) that evaporates most of the moisture present in the CDR flows (green and plastic).
In this way, the LCV of the inflow is radically increased and electricity generation is maximized. This process starts by part of the thermal energy generated in the recovery stage, the reason it can be considered an energetically autonomous line.
All projects are based on rigorous relevant economic studies to analyze their viability and determine the profitability of the installation, which will take advantage of the heat given off by oxidation to produce electrical energy through a "Rankine" cycle.
The objective and focus of this plant is to generate the highest amount of kWh and thus promote the creation of an electricity generation point from municipal waste.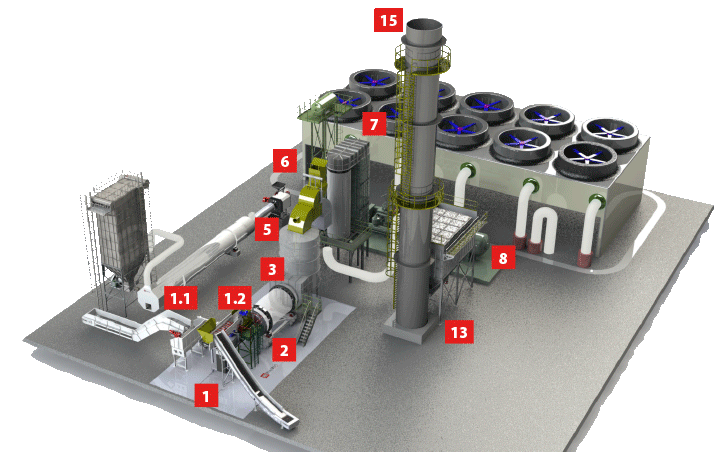 Advantages
Main milestones to achieve with developments of this type of plants are:
Minimize costs of treatment of material fractions without the possibility of reuse due to landfill disposal and associated management as waste.
Minimize the operating costs of industrial plants through energy autonomy.
Modular concept of the implantations to be able to carry out production extensions in later stages of development.
Provide the plant with a new line of economic benefit through the transfer of energy to the electricity grid.